Alexandra (Alice) Lake
One of Delhi's highly respected citizens passed away last Monday in the person of Alexandra Lake. Wife of Mr. A. R. Cooper, for many years office manager of the local branch of the Canadian Canners. The late Mrs. Cooper was born in Stoke-On-Trent, England and she spent part of her life in that country. She was married to Mr. Cooper fourty-seven years ago and twelve years later she moved to Canada.
Mr. and Mrs. Cooper moved to Delhi twenty-five years ago. Mr. Cooper being employed by the Canadian Canners. During the time Mrs. Cooper has lived in the village she has been a faithful member of the Anglican Church and she has made many sincere friends, who will miss her willingness and faithfulness in church activities. Mrs. Cooper has enjoyed good health until a year ago when she began to fail. She is survived by her husband, one son Cecil of Kitchener. Mrs. Lloyd Chrysler of Clarkson and Mrs. T. E. Gingell of Delhi, sixteen grandchildren and one great grandchild. Sympathy is extended to these people in their bereavement. The funeral service was held in the Anglican Church Wednesday afternoon. Rev. Edwin Lee rector, in charge. Internment was made in Delhi Cemetary. The pall bearers were: W. E. Sutherland. G. G. Byers, J. A. Lawson, Charles Hickling, Sherman Strout, Max MacPherson. Relatives from Barrie, Powasson, Elmira and Kitchener attended the funeral.
Notes on Alice Lake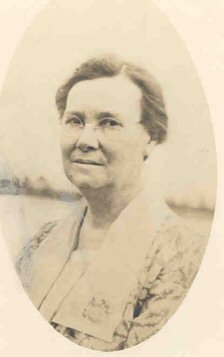 Alexandra Lake
Delhi, Ontario, Canada
circa 1928
Photo by T.E. Gingell Co.